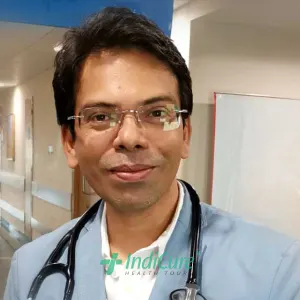 Dr. Ravindra Nikalji
Speciality: Nephrologist
Qualification: MBBS, MD, DM, Fellowship- Canada
Experience: 15+ Years
Location: Mumbai
Hospital: Apollo Hospital, Navi Mumbai
Dr. Ravindra Nikalji is a renowned nephrologist practicing in Mumbai, India, and has more than 15 years of experience. Dr. Nikalji is an expert in procedures including percutaneous nephrolithotomy, percutaneous nephrolithotripsy, urinary tract infection (UTI), and renal (kidney) surgery.
After doing his MD & DM at a few of the best medical institutions in India, he did an Advanced Fellowship in Nephrology and Kidney Transplant from the prestigious University of Toronto in Canada in 2011.
He is a member of the Maharashtra Medical Council, the American Society of Nephrology, the International Society of Nephrology, and the Indian Society of Nephrology. He received distinctions in biochemistry, pharmacology, pathology, and forensic medicine as well as second place in the DM Nephrology qualifying exam due to his intellectual prowess.
He has publications in both international and national journals and has completed clinical research in kidney disease and transplant. Additionally, he frequently speaks at regional and national conferences. In 2019, he presented a talk at the African National Renal Conference in Mombasa, Kenya on ABO-incompatible kidney transplantation.