How much does Proton Therapy cost without insurance: An Analysis of Factors and Options
Proton therapy is a cutting-edge cancer treatment that uses protons, which are positively charged particles, to deliver radiation directly to tumor cells. Unlike traditional radiation therapy, which uses X-rays, proton therapy limits radiation exposure to surrounding healthy tissues, reducing the risk of long-term side effects.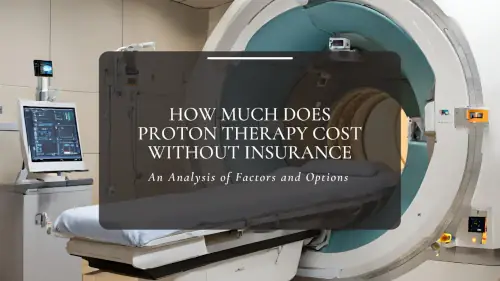 While deciding the treatment modality, one of the critical decisions that patients and their families need to make is choosing the most effective treatment option. Proton therapy, an advanced form of radiation therapy, has gained attention for its precise targeting of cancer cells while minimizing damage to healthy tissues. This is because, in conventional radiation therapy, the energy beam penetrates the body, traverses the tumor, and emerges on the opposite side. Beyond the tumor, this emitted radiation can potentially impact healthy tissue, known as the "exit dose".
In contrast, protons, being larger particles compared to those typically employed in standard radiation therapy, focus a greater portion of their energy within the tumor itself. Protons come to a halt after delivering their energy to the tumor; they do not continue past the tumor and enter healthy tissue on the other side.
However, an important consideration is to figure out how much does proton therapy cost without insurance and the availability of advanced facilities where quality treatment is possible.
In this blog, we will delve into the factors that influence the cost of proton therapy without insurance and explore potential options for managing these costs.
Cost Components of Proton Therapy without Insurance
Financial Burden:
The cost of proton therapy in the United States can be extremely high, often tens of thousands of dollars or more for a full course of treatment. For many individuals and families without insurance, this cost can be financially overwhelming.
Limited Access:
Proton therapy centers are not as widespread as traditional radiation therapy facilities. Patients may need to travel long distances to access a proton therapy center, incurring additional expenses for transportation, lodging, and meals.
Out-of-Pocket Costs:
Even with insurance, many patients still have significant out-of-pocket expenses, such as copayments, deductibles, and coinsurance. For those without insurance, the entire cost of treatment becomes an out-of-pocket expense.
Delayed Treatment:
Due to the high cost, some individuals may delay or forgo proton therapy altogether, which can have serious consequences for their health and outcomes. Delayed treatment can allow the cancer to progress, potentially making it more difficult to treat effectively.
Negotiation Challenges:
Patients without insurance may have limited ability to negotiate lower prices for their treatment or to take advantage of negotiated rates that insurance providers typically have with healthcare facilities.
Factors Influencing Proton Therapy Costs in USA
Treatment Location:
The cost of proton therapy can vary significantly based on the treatment facility's location. Major cities and renowned medical centers might have higher treatment costs compared to facilities in less populated areas.
Type and Stage of Cancer:
The type and stage of cancer being treated can impact the complexity and duration of proton therapy. More complex cases might require additional treatment sessions, which can contribute to higher costs.
Treatment Plan:
Each patient's treatment plan is customized to their specific condition. Factors such as the size, location, and depth of the tumor, as well as the patient's medical history, play a role in determining the treatment plan's complexity.
Number of Sessions:
Proton therapy is typically delivered over a series of sessions. The total number of sessions needed depends on the type of cancer and its stage. More sessions translate to higher overall costs.
India can be a compelling option for affordable Proton Therapy treatment.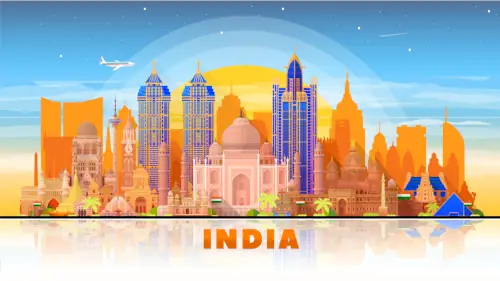 India has rapidly become an attractive option for proton therapy treatment due to its combination of high-quality medical facilities, experienced professionals, and cost-effective solutions. Before turning to the significant question of how much does proton therapy cost without insurance, let us understand the following factors that explain why India stands out as a better option for proton therapy treatment.
Affordability:
Proton therapy cost in India is one of the most significant advantages of seeking the treatment in India. The potential for substantial cost savings in comparison to the USA, makes it an attractive option for patients without insurance. The overall cost, including treatment, accommodation, and travel expenses, is often significantly lower compared to the USA or other Western countries.
Medical:
India offers medical visas specifically for patients seeking medical treatment in the country. These visas often have longer validity periods than regular tourist visas, accommodating the duration of treatment and recovery.
World-Class Facilities:
India has seen significant advancements in medical technology and facilities, offering world-class hospitals in India comparable to those in the USA. India has invested heavily in healthcare infrastructure and technology. Many proton therapy centers in India are equipped with state-of-the-art equipment and offer high-quality medical services that meet or exceed international standards. This ensures that patients receive the best possible care. India boasts a pool of highly skilled and experienced medical professionals, including the best radiation oncologists, proton therapy specialists, and support staff.
Support from the Indian Government for Health Tourism
Promotion of Traditional Medicine: India promotes alternative and traditional medical systems like Ayurveda, Yoga, Naturopathy, and Homeopathy (AYUSH). These systems are popular among international patients seeking holistic healthcare solutions.
Medical Tourism Facilitation Centers: Some states have established dedicated medical tourism facilitation centers that provide information, assistance, and support to international patients, including help with hospital selection, accommodation, and transportation.
Medical Tourism Support:
India has a well-developed medical tourism industry. Many hospitals and treatment centers offer comprehensive services to international patients, including assistance with travel arrangements, visa processing, and accommodation. This makes the entire process more convenient for patients traveling from abroad.
Language and Cultural Diversity:
India is a diverse country with many English-speaking healthcare professionals. This linguistic advantage can enhance communication between patients and medical teams, ensuring a smoother treatment experience.
Now that we have considered all the factors, it's time to address the burning question: How much does proton therapy cost without insurance? In India, proton therapy typically ranges from $45,000 to $65,000, while in the United States, it can surpass $150,000 to $200,000. For a detailed breakdown of these factors, refer to the table below
Comparing the cost of proton therapy in the USA and India
| Aspects | Proton Therapy cost (India) | Proton Therapy cost (USA) |
| --- | --- | --- |
| Approximate Costs | US $45,000 to $65,000 | US $150,000 to $200,000 |
| Basic Cost Comparison | 50% - 70% cheaper | Higher cost |
| Type and Stage of Cancer | Varied based on complexity | Varied based on complexity |
| Treatment Plan Customization | Influences cost | Influences cost |
| Location (e.g., city) | Varied | Varied (higher in major cities) |
| Facility and Equipment Quality High | High-quality, competitive | High quality but can be very costly |
| Support Services | Offered | Offered, adds to the cost |
| Currency Exchange Rates | Can impact the cost for int'l Patients | N/A |
| Travel and Accommodation | Additional cost for int'l patients | May be required for out-of-town patient |
| Additional Expenses | Visa, transportation, daily living | May be required for out-of-town patient |
Conclusion
Proton therapy represents a remarkable advancement in cancer treatment, offering hope for improved outcomes and reduced side effects. However, considering how much proton therapy costs without insurance, it can be a significant financial burden for patients and their families.
By understanding the factors influencing treatment costs and exploring various options for financial assistance, payment plans, and alternative treatment locations, patients can make informed decisions about their cancer treatment journey. It is crucial to engage in open communication with medical professionals and treatment facilities to find the best path forward in managing both health and financial considerations.
If you are looking for health tourism in India it is important to know the Indian government recognizes the immense potential of health tourism and has implemented several measures to support and promote it. These efforts include facilitating visa procedures, promoting quality healthcare, collaborating with the private sector, and actively marketing India as a premier destination for medical treatment.
Besides, companies like IndiCure Health Tours, which help you make an informed decision by guiding and apprising you with the best treatment options, make India a compelling destination for international patients seeking high-quality and cost-effective medical care.