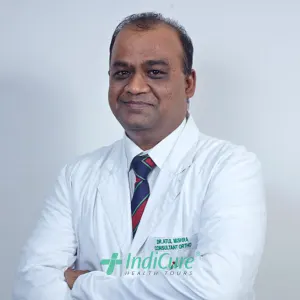 Dr. Atul Mishra
Speciality: Orthopedic & Knee Replacement Surgeon
Qualification: MBBS, MS (Ortho), Fellowship in knee orthopedic and sports traumatology (Germany), Fellowship in knee replacement (Japan)
Experience: 21+ years
Location: Delhi, NCR
Hospital: Fortis Hospital, Noida
Dr. Atul Mishra is the head of the orthopedics department at Fortis Hospital in Noida. He has done over 5000 knee procedures, including joint replacements and arthroscopies so far.
He has Fellowships in Joint Surgery at Matsudo Municipal Hospital in Japan, Sports Medicine, and Knee Surgery at Institute orthopedici Rizzoli in Bologna, Italy, and Knee Reconstruction at University Hospital, Philipps University Medical School in Marburg, Germany, among others.
He received the Chikitsa Gaurav Samman 2008 from the Akhil Bharatiya Swatantra Lekhak Manch on 14th November 2008, and the Award of Honor from the DR. L.H. LOBO MEMORIAL TRUST on 23rd October 2010 at the 28th Annual Function and Scientific Session on REVISION TOTAL KNEE ARTHROPLASTY organized by the DR. L.H. LOBO MEMORIAL.
He is a Life Member of IMA East Delhi Branch, Delhi Orthopedic Association, and Indian Arthroscopy Society.