What is Boob Job ?
Beautiful and sumptuous breasts are every woman's desire. Shape, size and firmness of breasts dictate their attractiveness, and therefore a lack of them is a hindrance to a woman's self-esteem, as it is a problem she might not be able to share with people around her. Boob jobs or breast augmentation offer permanent and best solutions to women with underdeveloped breasts.
For women who do not afford the cost of breast implant surgery in their own country and seek cheap breast implants, Medical Tourism in India is the best option. Not only is boob job cost in India affordable, the surgery is done by few of the best plastic surgeons in India with IndiCure.
Boob job with the use of breast implants is a cosmetic surgery procedure to enhance the size or change the shape of the breasts without altering their texture. It is also called "Augmentation mammoplasty" or "Breast enlargement".
Breast augmentation is done for two main reasons:
Cosmetic- where the aim is to increase size or gain symmetry, contour and shape.
Reconstructive - where the aim is to rebuild the breast after mastectomy, like in breast cancer cases.
Reasons to Undergo Boob Job:
Congenital deformity or defects that lead to underdeveloped or abnormal breasts
Asymmetry in one or both breasts
Reduction in size of the breasts after extreme weight loss or after pregnancy and lactation.
Poland's syndrome-condition where the woman lacks breasts altogether due to congenital defects or hormonal deficiency or both.
Am I a good Candidate?
If you're physically and mentally healthy, 18 years of age or older, not currently pregnant or nursing, and have realistic expectations, you are a good candidate for boob job surgery.
Boob Job Options
Cosmetic breast augmentation or breast enlargement can be done through two techniques- Fat transfer and Breast implants.
Autologous fat transfer: It is a procedure where fat cells extracted through liposuction from body areas like abdomen, thighs, and hip are prepared and injected into the breasts. Fat transfer for breast augmentation is preferred by women who do not wish to add a foreign object in their body. The women should, however, have enough fat in the body for autologous fat transfer to breasts. The procedure is simple and completely safe as your own body fat is used for enhancement. There are chances of some fat reabsorption into the body.
Breast Implants: There are different types of breast implants used for breast augmentation. Implants differ in shape, size, texture and the material used in them. Saline and silicone filled implants are two main types or material used for breast implants. Both have their own advantages and disadvantages. After the FDA clearance to use silicone implants for cosmetic surgery, silicone implants are most popular because of their natural feel and texture. Modern implants use cohesive gel and are completely safe even after they burst, which is why they are preferred over saline implants all across the world. Round shaped cohesive silicone gel implants are the most popular implants.
Surgery Information
| | |
| --- | --- |
| Surgery Time | 1 - 2 hours |
| Anesthesia Type | General Anesthesia |
| Hospitalization | 1 Day |
| Recovery Time | 7 - 10 Days |
How is Boob Job Procedure done?
The following steps are involved in the procedure:
Introducing medication and anesthesia
Making incisions that minimize scarring and are discreet in their location.
Incisions are of 3 kinds:
Peri-areolar
Infra-mammary
Trans-axillary incisions.

The type of incision is decided according to the type and size of the implant.
A pocket is created for the implant to be placed in 2 ways: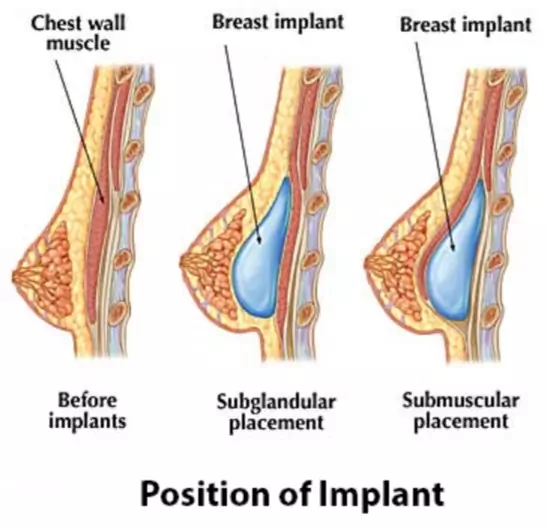 What is the Recovery after Boob Job Surgery?
It is normal to feel mild pain and discomfort for a couple of days after the surgery which shall be controlled with pain medications. Normal activities can be resumed in about a week's time, although strenuous activities and exercise should be avoided for 6-8 weeks.
What Results Can I Expect from Boob Job Surgery?
Boob job has a very gratifying outcome giving women fuller and proportionate breasts and boosting their self-confidence. Special supportive bras provide the breasts required support and the scars heal uneventfully and are hidden discreetly.