Eye Bag Surgery in India
The economical eye bag surgery cost in India is quite popular among westerners as the end result is more youthful look at much affordable prices. Plastic surgery in India has evolved over the years offering the most advanced techniques for plastic surgery. Besides, there are few world renowned plastic surgeons in India who operate at world class plastic surgery hospitals in India.
Overview
Eyes are the most beautiful part of the human face which often show the earliest signs of ageing or any other kind of stress that we may be having. The removal of fat deposits, muscle and excess skin around the upper and lower lids can dramatically change your appearance and take away years from your face.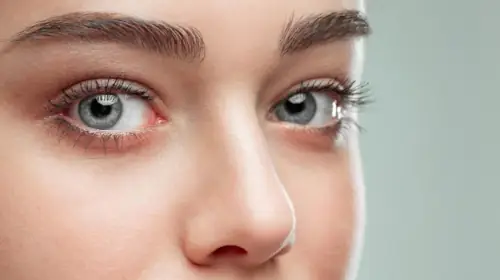 Eye bag plastic surgery or Blepharoplasty removes excess skin from upper eyelids, fat pouches under the eyes and corrects sagging or drooping eyelids to give your eyes and face a young and rejuvenated look.
Reasons for undergoing Blapharoplasty
Drooping eyelids are called "Blepharoptosis" or "Ptosis". It can affect one or both eyes to different degrees from unremarkable to completely covering the pupil and iris. This can lead to amblyopia or astigmatism if not treated on time. Drooping eyelids can cause obstruction in vision. Drooping can be of 2 types:
Congenital – due to improper eyelid muscle development
Acquired – when muscle or eyelid weak and thin
Ptosis can also be classified as:
Myogenic ptosis: This is caused by muscle weakness or eyelids
Neurogenic ptosis: Abnormal conditions where eyelid nerves are effected
Apo-neurotic ptosis: There is degeneration of eyelid muscles leading to weakening of eyelid muscles
Mechanical ptosis: Over time drooping is caused due to mechanical action of eyelid as age advances.
Treatment options:
Blepharoplasty can be categorized into 3 types:
Upper Eyelid Blepharoplasty: It is done mostly in aged people to restore function for proper vision to carryout normal daily activities.
Lower Eyelid Blepharoplasty: It is done to treat what is commonly called eye bags in lower eyelids to improve the appearance of a person.
Double eyelid surgery: It is fairly common among Asians and the surgery to treat this is often referred to as asian eyelid surgery. A lid crease is introduced in upper eyelid for a double lid appearance. Many people prefer to get asian eyelid surgery in India as it costs lesser to get asian eyelid surgery in India than their own Asian country.
The other way of categorizing blepharoplasty is by the purpose:
Functional blepharoplasty: Aged, infected, degenerated or cancerous eyelids are re-established to normal state and vision is improved. Vision restoration is the main goal though improved aesthetics is an added advantage.
Cosmetic Blepharoplasty: mainly aims to improve appearance of the eyelids. Getting rid of droopy eyes can make the face look younger and you more confident.
Blepharoplasty can be done alone or can be combined with other facial surgeries such as a Face lift and Brow lift to give the face a fresher and younger looking appearance. The surgery is performed under local anaesthesia with sedation if being performed as a separate procedure, but general anaesthesia is used if it is a part of a longer procedure like a Facelift and may take anywhere from three to four hours.
An incision is made below the eyelashes in lower eye and along the crease of upper eyelid, skin is dissected, fat removed and the muscle is tightened. The incision is closed with fine sutures to avoid scarring. A trans-conjunctival approach is also sometimes used to avoid the external incision.
Candidates for Blepharoplasty
If you are above 18, are concerned about the appearance of your eyes, have healthy facial tissue and muscles around eyes and don't have any serious eye problems, have sound physical health and are emotional stability, you are a good candidate for the eye bag surgery or blepharoplasty.
Procedure
The first step is to anesthetise the patient. The incision is done internally so there is no scarring and can be hidden by natural anatomy of structures associated with eye.
In upper eyelids, incision is in the natural folds of eyelid so that there is a more tightened appearance with removal of excess skin and fat.
Upper eye-lid surgery
The lower lash line is the location of lower eyelid incision and the excess skin and fat are removed.
An alternative for lower eyelid surgery is trans-conjunctival incision but no skin is removed with this technique.
Lower eye-lid surgery
The incisions are then sutured back and dressed to heal.
Expected Results
Eye bag surgery or Blepharoplasty shall give you a younger looking face with rejuvenated eyes and the area around it. The eyes look more awake and field of vision is also corrected. The results from this procedure are more or less permanent.
Recovery after blepharoplasty
You can resume routine activities in about a week to ten days after the surgery. Avoid strenuous work and activities for at least five to six weeks following the surgery.
Time and Cost
You would need to stay overnight at the hospital after the procedure. The sutures would be taken out a week after the surgery. You would need about a week for an eye lid surgery in India or Blepharoplasty in India.
Blepharoplasty Cost in India
At IndiCure we recognize the significance of excellent health and well-being of our guests and hence our objective is to provide best eye bag surgery in India at most affordable prices. A preferred association with best cosmetic surgery hospitals in India and top cosmetic surgeons helps us to advise you about
Best options for eye bag surgery in India
Most affordable blepharoplasty cost in India
Blepharoplasty cost in India varies with the type of surgery chosen, surgeon, facility and the city where you choose to get the surgery done. Blepharoplasty cost in India starts from around USD 1,650 and varies with various factors.
An individually allocated case manager takes personalized interest to design a tailor-made treatment plan for every guest and will tell you about the duration and blepahroplasty cost in India.
Kindly send us the pictures of your face and a picture with close up of your eyes to info@indicure.com for a quick response from the case managers.
IndiCure Cares
We encourage you to educate yourself about eye bag surgery in India, and also the benefits from the right kind of eye bag surgery before making a choice.
IndiCure thus invites you for a free consultation with the best plastic surgeons in India and assures you of hassle free arrangements for examinations, surgeries, recovery, travel and stay in India.
You can be rest assured that with IndiCure's expertise, we will bring in a wonderful experience of plastic surgery in India , which we have been doing for more than a decade now!