Brow lift surgery in India
Overview
Often, the eyes and the forehead area show earliest signs of ageing, which includes wrinkles, frown lines or heaviness of the eye brows. Few people even have deep lines or "worry lines" on their forehead, which sometimes portray unintended emotions.

Endoscopic brow lift or Brow lift, also known as forehead lift, is a popular plastic surgery procedure that elevates the drooping eye brows, removes the lines showing unintended emotions and gives the face a youthful and fresh appearance. The procedure targets loose skin and wrinkles on the forehead and is thus also referred to as the upper face lift. The brow lift cosmetic surgery takes around three to four hours and is done either under local anaesthesia with mild sedation or general anaesthesia.
Candidates
If your eyebrows are such that they portray emotions which you do not intend, are straight or low and make you look older than your age and you are physically and emotionally stable and have realistic expectations, you are a good candidate for brow lift surgery.
Procedure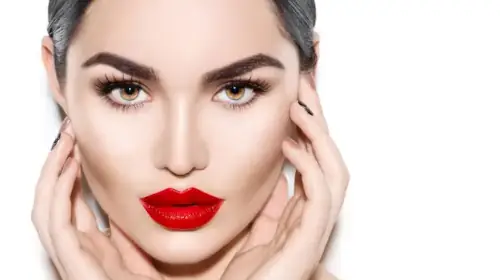 Brow lift is performed by making incision above the ears at the top of scalp hidden in the hairs or in an inconspicuous area if the hairline is receding or hair loss is an issue with the patient. The cosmetic surgeon then removes, alters and re- drapes the skin after the removal of underlying extra fat and muscles. This results in giving a smooth forehead and elevated eyebrows. The eyes as a result also appear more open and awake. The approach for the endoscopic brow lift includes making 4-5 incisions in the hair line and altering and re draping the skin of the forehead to remove the wrinkles and lines on the forehead.
Recovery
You can resume routine activities in about a week to ten days after the procedure. Avoid strenuous work and activities for at least five to six weeks following Brow lift.
Expected Results
Brow lift surgery will give your face a renewed and fresh look. You will look younger and relaxed. The newly acquired arch of the eyebrows on your smooth forehead will give you a very pleasant look.
Time & Cost
You would need to stay overnight at the hospital after the procedure. The sutures would be taken out after a week. You would need to be in town for about a week after you are discharged from the hospital for brow lift in India.


Brow lift cost in India
At IndiCure, we recognize the significance of excellent health and well-being of our guests and hence our objective is to provide best brow in India at affordable prices. A preferred association with best plastic surgery hospitals in India and top plastic surgeons in India helps us advise you about:
Best brow lift in India
Most affordable brow lift cost in India
The forehead lift surgery prices in India vary with the type of procedure, surgeon, facility and the city where you choose to get the surgery done. The cost of brow lift in India starts from around USD 2,350 and depends on various factors.
An individually allocated case manager takes personalized interest to design a tailor-made treatment plan for every guest and will tell you of the duration and forehead lift surgery prices in India.
Please send us the pictures of your face taken from the front and sides to info@indicure.com for a quick response from the case managers.
IndiCure Cares
We encourage you to educate yourself about endoscopic brow lift in India, and also the benefits from the right kind of brow lift surgery before making a choice.
IndiCure thus invites you for a free consultation with the top plastic surgeons in India and assures you hassle free arrangements for examinations, surgeries, recovery, travel and stay in India.
You can be rest assured that with IndiCure's expertise, we bring in a wonderful experience of cosmetic surgery in India, which we have been doing so for almost a decade now.