Male breast reduction in India
A condition like man boobs or female like breasts can be a cause of great embarrassment for men in day-to-day life. It is much easier to save yourself from the embarrassment with affordable cost of gynecomastia surgery in India. Gynecomastia or Male breast reduction is done by top cosmetic surgeons in India at state of the art plastic surgery hospitals in India.
Overview
Different degree of Gynecomastia (labelled as Type)
Gynecomastia or Male breast or "woman-like breasts," is a very common physical abnormality that occurs in men and sometimes it is also linked with obesity. Physically, it is just a flaw seen in the shape and appearance of the chest of average sized men. This can be simply treated with procedure named gynecomastia - also called breast reduction for men or commonly known as man boobs correction surgery.
It could be a very embarrassing for men suffering from this condition, and could be linked to obesity, excessive medication, hormonal imbalance or as a lifestyle disorder.
Causes
Gynecomastia can be triggered by reduction in testosterone levels compared to oestrogen. This hormone imbalance can be caused by:
Hormone changes occurring naturally with ageing and over-weight
Certain medications like drugs used for prostate enlargement (anti-androgens), cancer treatment, AIDS medication, anti-anxiety drugs, antibiotics, cardiac medication like digoxin etc.
Alcohol consumption and other recreational drugs
Certain medical conditions like hypogonadism, hyperthyroidism, kidney and liver failures
Malnutrition can also lead to hormone imbalance and gynecomastia
TREATMENT OPTIONS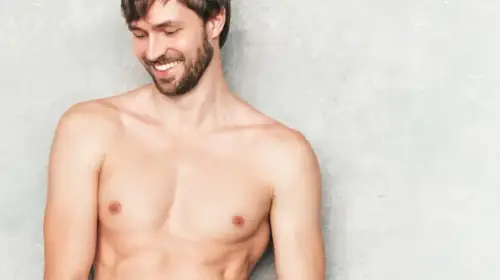 Medications
Medications such as testosterone replacement therapy, tamoxifen and danazol (synthetic testosterone) have been used.
Surgery
It is the gold standard for gynecomastia treatment. Surgery has 2 options:

Mastectomy: A surgery to remove breast gland tissue.
Liposuction: It is a simple procedure to remove fat from the breast.
Candidates
If you have abnormal amount of fatty tissue on your chest, and are uncomfortable with it, you can are a good candidate for the gynecomastia or popularly known as male breast reduction cosmetic surgery. You should be 18 or above, physically healthy and emotionally stable and should have realistic expectations from the procedure.
Procedure
Surgery can be categorized as:
Invasive techniques: Here the breast glandular tissue is resected using peri or trans-areolar incisions.
Minimally invasive techniques: This includes endoscopic procedures and axillary incision approach.
This is usually done to remove the extra fat in the chest to give a masculine chest. At times, in order to remove the superfluous fibrous tissue, a surgical excision is also done in the breast area. This procedure aids is removing the superfluous fibrous tissue which could not be removed with liposuction. The operation is rather simple with minimal scarring, no side-effects and long lasting results. Future relapse or need for another surgery is a rather rare phenomenon for this surgery.
The procedure is done under general anaesthesia or local with sedation. A small incision is made, which is elliptical or circular in shape, on the lower half of the nipple area complex. Through this incision, all the extra fat is sucked out. In cases where the tissue is glandular than fatty, the breast tissue is also removed.
Expected Results
Most men are pleased with the results achieved through the surgical correction. The results of the man boobs surgery are permanent giving you a flat, firm and more masculine-looking chest.
Recovery
Recovery after male breast reduction surgery is fairly quick. You are not supposed to take up activities that involve a lot of physical tenure for a few days after the procedure. You can resume routine activities within three to seven days to sedentary work in about a week to ten days. Strenuous work should be avoided for three to four weeks. Physical activity and exercising should be avoided for at least 6 weeks.
Time and Cost
The surgery takes about 1-2 hours to complete. The surgery can be performed either as a day care procedure or you would be discharged after 24-48 hours depending on how fast you recover. You can fly back to your country 7-8 days after your male breast reduction in India.
Cost of gynecomastia surgery in India
At IndiCure, we recognize the significance of excellent health and well-being of our guests and hence our objective is to provide best gynecomastia surgery in India at affordable prices. A preferred association with best cosmetic surgery hospitals in India and top cosmetic surgeons in India helps us advise:
Best gynecomastia surgery in India
Most affordable cost of gynecomastia surgery in India
The cost of gynecomastia surgery in India varies with the type of procedure chosen. The cost of gynecomastia surgery in India or cost of male breast reduction in India starts from around USD 1,700.
The cost of gynecomastia surgery in India varies according to the type of procedure used, surgeon, facility and the place of the treatment.
An individually allocated case manager takes personalized interest to design a tailor-made treatment plan for every guest and will tell you of the duration and cost of male breast reduction surgery in India.
Kindly send the pictures of your chest to info@indicure.com for a quick response from the case managers.
IndiCure Cares
We encourage you to educate yourself about man boobs surgery in India, and also the benefits from the right kind of procedure before making a choice.
IndiCure thus invites you for a free consultation with the top cosmetic surgeons in India and assures you hassle free arrangements for examinations, surgeries, recovery, travel and stay in India.
You can be rest assured that with IndiCure's expertise, we will bring in a wonderful experience of cosmetic surgery tourism in India, which we have been doing for almost a decade now.