A Canadian Nurse's Cosmetic Surgery in India Review
Ms. Laura Southern, a nurse by profession from the picturesque city of Calgary, Canada generously shared her cosmetic surgery in India review; providing hope and guidance for those individuals who, like her, are considering India as a destination for their cosmetic surgery.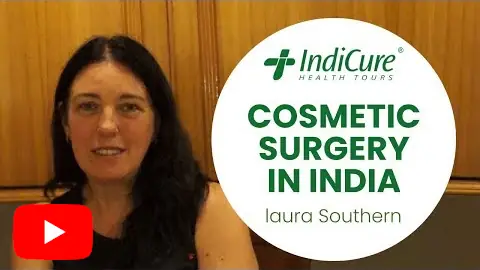 Continue reading this blog to learn more about Laura's journey to India for her tummy tuck and breast reduction surgery with IndiCure Health Tours and explore the compelling reasons behind her choice of India as her preferred destination for medical tourism.
As a nurse, Laura is well-versed with the intricacies of healthcare, making her naturally discerning when it comes to making crucial decisions about her well-being. Her choice to undergo cosmetic surgery was a deeply personal one, and her profession as a nurse added an extra layer of thoroughness to her decision-making process.
Before making her decision, she researched several medical tourism companies in Thailand, Mexico, South Korea, and Costa Rica. However, none of them could match the level of responsiveness, detail, and professionalism that IndiCure Health Tours offered. The choice became clear, and she knew that IndiCure was the right partner for her medical tour to India.
Laura quotes, "Right from my first interaction with my case manager at IndiCure, I was deeply impressed by their dedication. They patiently and thoroughly answered all my questions, no matter how numerous or complex they were. Their prompt responses and comprehensive information made me feel assured and confident about my decision to choose IndiCure as my medical tourism partner."
India, with its rich cultural heritage, stunning landscapes, and age-old traditions, might not be the immediate choice for those contemplating cosmetic surgery. However, for Laura, her familiarity with India played a significant role in her decision-making process. Having visited the country on three previous occasions for leisure, Laura had developed a deep affinity for India's vibrant culture and the genuine warmth of its people.
What set India apart as her chosen destination for surgery was her recognition of the country's remarkable healthcare standards, which she believed were on par with the best in Canada. This profound understanding of India's medical expertise and her firsthand experience of the country's hospitality made her confident in her decision to undergo cosmetic surgery in India.
In her cosmetic surgery in India review, Laura states that her cosmetic surgery medical tour was characterized by a remarkable blend of expertise and genuine care, leaving an indelible mark on her entire experience.
She was grateful for her surgeon's unwavering commitment to her well-being, instilling in her a deep sense of trust and confidence throughout her medical journey. The pre-consultations and post-surgery follow-ups conducted by one of the best plastic surgeons in India further enhanced her sense of safety and comfort, ensuring a smooth and reassuring process.
One of the best plastic surgery hospitals in India chosen by IndiCure proved to be an oasis of comfort and support during Laura's stay in India. Every member of the hospital staff, from the dedicated housekeepers to the caring dietitian, played a crucial role in her seamless recovery. The dietitian's attention to detail ensured that Laura's nutritional needs were met, promoting her overall well-being post-surgery.
However, it was not just the medical aspects that contributed to Laura's exceptional experience. The physicians and nurses went above and beyond their roles, providing not only their medical expertise but also invaluable emotional support during her recovery. This holistic approach to patient care underscored the hospital's commitment to ensuring not just physical recovery but also emotional well-being.
Laura's cosmetic surgery experience in India was not merely a medical procedure; it was a holistic journey that encompassed expert medical care, firm emotional support, and a level of comfort and dedication that exceeded her expectations. This experience serves as a testament to the exceptional standards of healthcare and hospitality that India, with the support of organizations like IndiCure, can offer to patients seeking medical treatment abroad.
When asked if she would recommend IndiCure to others in her cosmetic surgery in India review considering medical tourism in India, Laura's response was unequivocal - a resounding yes. Her endorsement of IndiCure is a testament to their unwavering commitment to excellence and patient satisfaction.
Laura concludes the review by saying, "I could not be happier with the results and the care I received during my stay in India. For those considering medical tourism, IndiCure should be your first and only choice. I wholeheartedly recommend IndiCure to anyone seeking surgical procedures in India. My experience has been a testimony to their commitment to excellence, and I am grateful to have been in such good hands."
If you are intrigued by Laura's incredible journey and wish to explore the possibilities of cosmetic surgery in India for yourself, do not hesitate to reach out to IndiCure Health Tours. IndiCure stands as a trusted and reliable name in the field, specializing in arranging exceptional cosmetic surgeries at India's finest hospitals.
An extensive experience spanning over a decade stands as evidence to IndiCure's commitment to excellence and the satisfaction of their valued clients. The company has successfully facilitated numerous procedures, ensuring the utmost care, professionalism, and success.
IndiCure takes pride in offering comprehensive services to make your cosmetic surgery in India an exceptional experience. The approach is not only to provide world-class medical care but also to do so at a cost that will not strain your budget.
Getting in touch with IndiCure is easy. You can reach out via email at info@indicure.com, where a dedicated team of experts will promptly respond to your inquiries, provide you with detailed information, and guide you through the process.
For a more immediate response, you can call or message via WhatsApp at +91-932-003-6777. A committed team is readily available to address your concerns, answer your questions, and assist you in taking the first step toward achieving your cosmetic surgery goals in India.
Let IndiCure Health Tours be your trusted partner in your medical tour to rediscover your confidence and beauty. Contact us today, and embark on your transformative journey.