A New Zealander's Bariatric Surgery Testimonial in India
Traveling overseas for bariatric surgery is a huge decision that carries significant considerations. A medical tour not only involves the physical aspect of undergoing a medical procedure but also navigating the intricacies of healthcare systems. At first, it might sound stressful as it did for Mr. Joshua Archer. However, Mr. Archer's story took a positive turn when he connected with IndiCure Health Tours.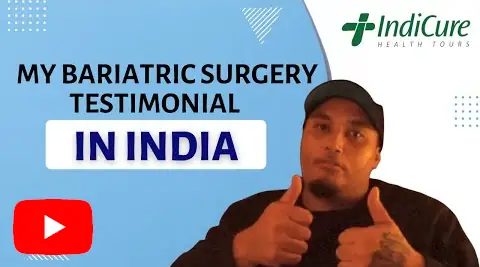 After the success of Mr. Joshua's bariatric surgery in India, he was more than happy to deliver a bariatric surgery review. For someone like Mr. Archer, who had never travelled abroad before, the prospect of seeking medical treatment in a foreign land was undoubtedly intimidating. The uncertainty of the process, the need for meticulous planning, and the fear of the unknown can cast a dark cloud over what is already a life-altering decision.
Let us hear directly from Mr. Archer in his own words. The firsthand account of his bariatric surgery testimonial in India provides a personal and emotional perspective on his medical tour.
Mr. Joshua Archer's bariatric surgery testimonial in India begins with a warm and friendly introduction, offering a glimpse into his life and his hometown, Kawerau, in New Zealand. He paints a vivid picture of this quaint town, nestled in the heart of the North Island, and highlights the local sentiment that describes it as the "middle of the universe." This introductory touch not only provides a personal connection but also sets the stage for his medical tour, emphasizing the beauty of his hometown, which adds depth to his story.
He then transitions into the crux of his bariatric surgery testimonial in India, taking us back in time to ten months ago when he found himself at a significant crossroads in life. Mr. Archer faced a monumental decision: the need for Gastric bypass surgery, a medical procedure; this decision weighed heavily on him, as such surgeries carry both physical and emotional weight.
Fortunately for him, one of his best friends had undergone a similar procedure in India and he offered Mr. Archer with valuable insight into choosing India as a destination for medical tourism. Mr. Archer stated, 'After my friend generously shared his story, he shed light on the numerous advantages of opting for a medical tour to India. He highlighted two critical factors: it would be cost-effective bariatric surgery and at the same time, I could get the quality treatment that I desired without any badger.'
After his friend's positive recommendation about seeking medical treatment in India, Mr. Archer decided to conduct thorough research to ensure that he was making an informed decision. His first step was to turn to the internet, and he initiated a Google search which led him to IndiCure. His mention of IndiCure Health Tours being at the top of the search results highlights the company's prominence and credibility within the medical tourism industry.
Upon landing on IndiCure's website, Mr. Archer, and his wife, who happened to be a pharmacist, delved into the wealth of information it offered. As a medical professional, his wife was able to critically evaluate the information presented on IndiCure's site from a medical point of view which brought a unique perspective to the decision-making process. This added layer of scrutiny ensured that their choice was not solely based on anecdotal evidence but also on sound medical judgment.
Mr. Archer stated, 'Finding IndiCure was a significant turning point for us because it offered us all that we were looking for in one place. I explored IndiCure's website and found the information both comprehensive and convincing. It gave me the confidence to reach out to them. From that moment on, my entire journey was in the capable hands of IndiCure.'
'More than my wife, I was very stressed about the whole situation, but IndiCure sorted everything out, right from my first video consultation with one of the best bariatric surgeons in India, to picking me and my family up from the moment we arrived at the airport. They were responsive, reassuring, and lived up to their promises. They inquired if we had our heads sorted out, ensured a taxi was waiting for us, and arranged transportation to the best hospital for bariatric surgery and hotel - everything was meticulously planned. It really showed the dedication the IndiCure team had for their patient guests.'
'On the 29th of October, I checked into the hospital, and on the 30th, I underwent surgery. The entire process was remarkably smooth, with no complications. The communication with the medical team, hospital staff, and the surgeon was more than satisfactory. Two days later, after being discharged, IndiCure arranged transportation back to the hotel, where I have spent the last six days recovering.'
In the next segment of his bariatric surgery testimonial in India, Mr. Archer uses words like "amazing" to describe Mumbai, emphasizing the city's dynamic and energetic atmosphere. He notes that it is a place brimming with warm and welcoming people, which highlights the hospitality and friendliness of the locals. From bustling markets to vibrant streets, Mumbai's streets are a microcosm of the diverse and colorful culture of the country.
He mentions his interest in trying on Indian suits, inspired by his love for Bollywood movies. This detail adds a personal touch to his testimonial, showcasing how his medical tour to India went beyond medical treatment to include personal experiences and cultural immersion. Ultimately, it reinforces the idea that a medical tour to India can be more than just a procedure; it can be a life-enriching adventure.
In a final reflection, Mr. Archer candidly admits, 'As I prepare to fly back home tomorrow, I want to take a moment to express my heartfelt thanks to everyone involved. Despite my initial reluctance about the medical tour, it turned out to be a far more positive experience than I had expected. If you are considering a medical journey like mine, I wholeheartedly recommend using IndiCure. They have made my medical tour to India unforgettable, and I am eternally grateful. Thank you, IndiCure, for being there every step of the way.'
If you, like Mr. Joshua Archer, are searching for cost-effective bariatric surgery in India with a focus on quality treatment, we invite you to reach out to us via email at info@indicure.com or via WhatsApp +919320036777.