American Lady's Review of Hip Replacement Surgery in India
Before you start planning your medical trip for hip replacement surgery in India, conducting comprehensive research is essential, and perusal of firsthand reviews is an excellent way to begin.
Let's hear an analogous hip replacement surgery in India review from one of our recent patient guests. Happy with her experience with IndiCure, she was more than glad to recommend IndiCure Health Tours through one of her hip replacement surgery in India reviews.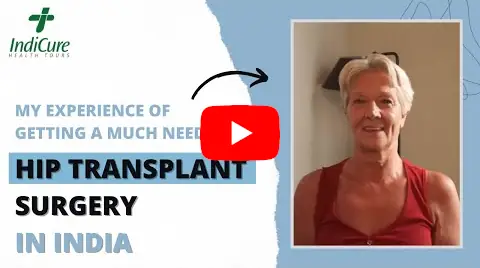 Meet Landa Watson, a 60-year-old individual from America who, for the past seven years, had been grappling with the debilitating effects of a deteriorating hip joint because of not having medical insurance.
She begins her story by telling us how she felt compelled to seek medical guidance as she could no longer endure the agony caused by her deteriorating hip joint. The initial step was consulting with general practitioners, and what she discovered left her utterly devastated. The estimated cost of a hip replacement surgery without medical insurance was nothing short of shocking, ranging from $31,000 to an astronomical $45,000, and that was just for the surgical procedure itself. To make matters even more daunting for her, she mentioned that this estimate did not even include the subsequent costs for post-operative care, additional medical needs, and the extended period of rehabilitation that typically follows such a significant surgical intervention.
Landa quotes, 'The news hit me like a tidal wave of despair. I realized that the financial burden of this crucial and, frankly, life-changing procedure was going to be beyond my means. It is astonishing how even a necessary medical procedure, such as a hip replacement, can transform into an overwhelming, mountainous burden when you are without the security of insurance coverage.'
She was enormously saddened by this stark reality of how difficult it is to receive the required healthcare if you do not have medical insurance, such numbers represented not only a financial burden to her but also a potential barrier to receiving the healthcare she desperately needed. So, after seven long years, Landa figured it was high time to find an alternative for her hip replacement surgery in America.
In her review, she explained how her quest for affordable hip replacement surgery in India started by scouring the Internet. She cruised through numerous websites for hours and days and fortunately, her relentless search led her to the discovery of IndiCure Health Tours. Landa described it being a pivotal moment and in her words, 'a beacon of hope' in her quest for relief.
Upon submitting her inquiry and sharing her medical history, Landa made the decision to entrust IndiCure with her hip replacement journey. IndiCure promptly connected her with a highly esteemed orthopedic surgeon in India, who determined that she was indeed a suitable candidate for a hip replacement. After 7 long years of pain, discomfort, and limited mobility, Landa decided to fly in to India and set her transformative journey in motion.
Although she had travelled from America all by herself, Landa realized that the significant source of her comfort was due to the dedicated nursing staff, who were by her side round the clock, aiding and supporting her with unwavering commitment. She believes that their compassion is what made her recovery process smoother and more reassuring.
Landa expressed her appreciation for the seamless arrangement of every aspect of her medical trip by saying, 'IndiCure took care of all the arrangements from my hotel to the hospital. I had nursing staff with me all night, all day, and every day to help me with my things. Everyone was very good to me, and the hotel was nice and, I got to see a little bit of India at the same time.'
Although Landa's journey to India was primarily dedicated to her hip replacement surgery, she also had a unique opportunity for cultural exploration which provided her with a remarkable glimpse into India's rich heritage and traditions. From the vibrant festivals to the delicious cuisine, the intricate art and architecture to the spiritual practices, India offers an array of experiences that captivate the senses. Landa's stay in India allowed her to immerse herself in this cultural mosaic, gaining insights into a world far removed from her own.
Whether it was attending a traditional dance performance, visiting a local temple, or simply strolling through bustling markets, buying locally fashioned artistic artifacts and fragrant incense sticks she was exposed to the rich tapestry of Indian life. She also mentions how the tourist attraction, Marine Drive, an iconic and picturesque promenade in Mumbai, holds a special place in her heart and it carries a poetic significance that resonates with the stunning visual spectacle it presents, especially when illuminated in the evening. These experiences provided her with a deeper appreciation for the country and its people.
Exploring the culinary landscape of India became a delightful part of her journey, introducing her taste buds to a world of new flavors and culinary traditions.
It is a reminder that medical travel can be an enriching experience, offering patients a chance to discover a different part of the world while addressing their health concerns. Perhaps the most crucial part of Landa's testimonial is the success of her hip replacement surgery and after a mere ten days after her surgery, Landa was ready to return home.
Landa's hip replacement surgery in India review serves as a testament to the skill and expertise of the medical professionals she encountered. Her journey to India for medical treatment was undoubtedly a life-altering experience, and she could not be more content with the outcome. Her gratitude shines through, highlighting the impact that effective medical tourism can have on individuals' lives.
Landa Watson's testimonial is a powerful narrative of hope, resilience, and the transformative potential of medical tourism. Her journey with IndiCure not only alleviated her physical suffering but also enriched her life with new experiences and cultural immersion. Landa's experience underscores the importance of personalized care and the role of medical tourism facilitators in guiding patients toward the right treatment options.
From understanding your medical history to picking you up and dropping you off at the airport IndiCure Health Tours has got you covered. The company is not merely a facilitator of medical tourism, but is your dedicated partner in regaining your health and well-being.
IndiCure Health Tours offers a comprehensive solution for individuals seeking hip replacement surgery in India. With a commitment to excellence, affordability, and personalized care, the aim is to enable patients regain their mobility and enjoy life to the fullest. Choosing IndiCure for your medical health tourism needs in India ensures a hassle-free, safe, and memorable experience. The company's dedication to patient satisfaction, coupled with its network of renowned hospitals and highly skilled surgeons, makes it a preferred choice for those considering hip replacement surgery in India. Your road to affordable, world-class healthcare starts here, and it is a journey that you will cherish for a lifetime.
If you have any queries or concerns in your mind, all you must do is reach out to IndiCure and start the transformation journey that you have been looking for, and that too in affordable packages.