An Australian Lady's Experience of Eyelid Lift Surgery in India with IndiCure: A Personal Story
Sep 13, 2023
Eyelid Lift Surgery
Hi, everyone. My name is Angela and I live on the Sunshine Coast in Queensland, Australia. I'm 59 years old and I recently underwent an eyelid lift surgery in India with the help of IndiCure Health Tours, a medical tourism company that offers high-quality and affordable medical care in India. I want to share my personal story with you and tell you why I chose to have my surgery in India and how IndiCure Health Tours made it easy.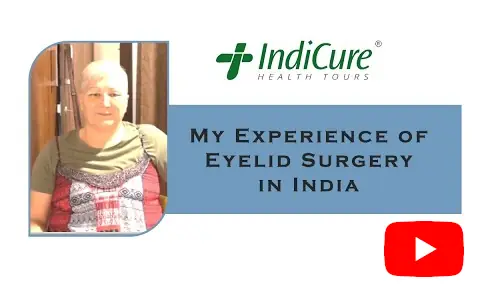 Why I wanted an eyelid lift surgery
I have always been conscious of my appearance and I like to take care of myself. However, as I got older, I noticed that my eyelids started to droop and sag, making me look tired and older than I felt. This affected my self-confidence and made me unhappy with the way I looked.
I wanted to do something about it, but I was not willing to pay the exorbitant prices for cosmetic surgery in Australia. I contacted a few surgeons locally and the cost quoted to me for Eyelid lift surgery in Australia was $ 6000 including all the expenses. That was way beyond my budget.
How I found IndiCure Health Tours
I started to look for alternative options and came across the concept of medical tourism, which is the practice of travelling to another country for medical treatment that is cheaper or better than what is available in one's own country. I was intrigued by this idea and decided to explore it further.
I searched online for medical tourism companies that offer eyelid lift surgery and came across IndiCure's website. IndiCure Health Tours is a leading medical tourism company in India that has been operating since 2010 and has helped thousands of patients from all over the world to get high-quality medical care at a fraction of the cost in Western countries.
I was impressed by their website and the information they provided with the testimonials from their previous clients. I decided to contact them via their online form and request a quote for eyelid lift surgery in India. They responded promptly and gave me a quote of $1200 for the surgery, which included the surgeon's fee, hospital charges, anesthesia charges, medication charges, pre- and post-operative consultations, airport transfers, hotel accommodation for four nights, and their assistance throughout my trip. They also sent me some before-and-after pictures of their previous clients who had undergone eyelid lift surgery in India.
I was amazed by how affordable their package was, even after including the travel and accommodation expenses. It was less than a third of what it would have cost me in Australia. I was also reassured by the quality of their service and the results they had achieved. I decided to go ahead and book my surgery with them.
My experience with IndiCure Health Tours
IndiCure made the whole process very easy and smooth for me. They helped me to arrange my medical visa and hotel bookings. They also sent me a detailed itinerary of my trip and a list of instructions on what to do before and after my surgery.
I flew to India on a Saturday morning and arrived at Delhi airport on Sunday afternoon. There was a representative from IndiCure waiting for me at the airport with a placard with my name on it. He greeted me warmly and took me to his car. He drove me to my hotel and helped me check-in.
The next day, I was picked up from my hotel and drove to the hospital where I met the plastic surgeon chosen by IndiCure. He was a very experienced and qualified plastic surgeon. He examined my eyes and explained to me what he was going to do during the cosmetic surgery. He also answered all of my questions patiently and clearly. He made me feel very comfortable and confident about the procedure. A whole lot of tests were conducted on me to make sure I was fit for the surgery.
The surgery was scheduled for Tuesday morning. I arrived at the hospital for my plastic surgery at 8 am and was taken to the operating room. The surgery took about an hour and a half and it was done under local anesthesia with sedation. I did not feel any pain or discomfort during the surgery. After the surgery, I was taken to a recovery room where I stayed for a few hours. The plastic surgeon came to check on me and told me that the surgery went well and that I had no complications. He also gave me some instructions on how to take care of my eyes and what to expect during the healing process.
The representative from IndiCure came to pick me up and drove me back to my hotel. I spent the next three days resting in my hotel room and following the surgeon's advice. I had some swelling, bruising, and tightness around my eyes, but it was not too bad. I applied cold compresses to my eyes and took the medication as prescribed. I also wore sunglasses whenever I went outside to protect my eyes from the sun and dust.
On Saturday, I went back to the hospital for a follow-up consultation with the surgeon. He removed the stitches from my eyes and examined them. He said that I was healing very well and that I could fly back home the next day. He also gave me some tips on how to maintain my results and prevent any future sagging of my eyelids.
On Sunday, I checked out of my hotel and was driven to the airport by the representative from IndiCure Health Tours. He helped me with my luggage and checked me in for my flight.
I flew back home on Sunday night and arrived at Brisbane airport on Monday morning.
My results after the plastic surgery
It's been three weeks since my surgery and I'm very happy with the results. The swelling and bruising have gone down completely and the scars are barely visible. My eyes look more open, alert, and youthful. I feel more confident and attractive than ever before.
I'm so glad that I decided to have my eyelid lift surgery in India with IndiCure. They provided me with excellent service and care at an affordable price. They made my medical tourism experience a positive and memorable one.
I would highly recommend IndiCure Health Tours to anyone who is looking for high-quality and low-cost aesthetic plastic surgery abroad. They are a trustworthy and reliable company that will take care of you from start to finish.
Thank you!