Plastic Surgery in India Reviews by an American Solo Lady Traveler
The idea of solo travel for plastic surgery in India can be a daunting prospect, particularly for first-timers like Ms. Brandi Luce who came all the way to India from America.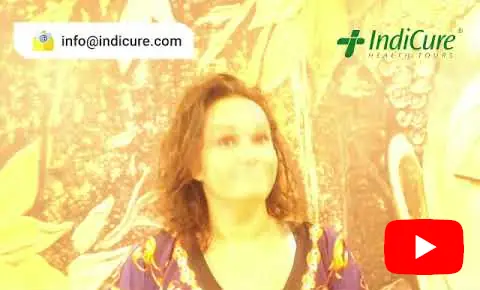 Amongst all the plastic surgery in India reviews, her story stands out the most as she not only traveled to India for solely her plastic surgery, but she made the most out of her medical tour by grasping the opportunity of seamlessly blending surgical rejuvenation with a vacation experience in India. In this blog, we will learn more about Ms. Brandi's experience in India.
Ms. Brandi's path to plastic surgery in India was paved by a Google search, leading her to IndiCure Health Tours which not only offered all-inclusive plastic surgery packages but also showcased the positive experiences of other solo female travelers which emerged as a beacon of comfort, turning the initial worry to ease.
From the moment Ms. Brandi inquired, IndiCure's expert advice, encompassing step-by-step instructions, situational strategies, and a clear roadmap of expectations, significantly alleviated the guesswork and anxiety that often accompany such journeys into the unknown and cocooned her in a sense of security.
After the pivotal consultation with one of the most skilled plastic surgeons in India, Ms. Brandi solidified her decision to choose India and IndiCure as her trusted partners in this transformative endeavor.
Upon reaching India, her first destination was the serene coastal retreat of Goa. She immersed herself in pristine waters and the vibrancy of the place. Its palm-fringed beaches, golden sand, and turquoise waters offer opportunities for sunbathing, water sports, and leisurely walks along the shore. After spending a rejuvenating week in the coastal haven, Ms. Brandi ventures to Mumbai for her planned plastic surgery procedures - a mini Tummy Tuck and Brazilian Butt Lift.
The surgeon's remarkable blend of skill and approachability not only instilled confidence but also left an enduring impact on Ms. Brandi. IndiCure further contributed to her peace of mind by facilitating the arrangement of a comfortable apartment, ensuring that her stay was devoid of any stress or inconvenience which helped in her quicker recovery.
Brandi, contented with her surgery and the results, enthusiastically extended her recommendation to others contemplating plastic surgery abroad in our plastic surgery in India reviews. In her testimonial, she emphasizes the professionalism, guidance, and patience that defined her experience with IndiCure.
In her words, 'The appeal of opting for plastic surgery in India lies in the potential for cost savings, the availability of highly skilled surgeons, and the unique chance to combine surgical transformation with a fulfilling vacation. My experience with IndiCure Health Tours, the plastic surgeon and one of the best plastic surgery hospitals in India has been extremely wonderful, everybody has been so helpful. I will definitely come to India soon, probably during the next winter season'.
Ms. Brandi fell in love with India and did not want to leave so early therefore, seizing the opportunity, she explored India further after her surgery. Her next stop was the vibrant Pushkar festival in Rajasthan. The Pushkar Fair is one of India's largest camel, horse, and cattle fairs. Pushkar Fair has also become a significant tourist attraction for domestic and international travelers, given the cooler season, and the abundance of colorful cultural themes.
From Rajasthan, she took a flight to Kerala, known as God's own country and there she relished the diverse landscapes and cultures that Kerala had to offer.
Brandi's journey with IndiCure in India goes beyond cosmetic enhancements; it is a tale of self-discovery, cultural immersion, and newfound confidence. Her story stands as a testament to the transformative power of embracing change in a foreign land, especially with the right guidance and support.
So, for those contemplating a journey of self-improvement through plastic surgery abroad, perhaps India and IndiCure could be the unexplored chapter you never knew you needed. It is not just a destination; it is an experience waiting to exceed your expectations.
IndiCure Health Tours offers end-to-end solutions for your medical trip to India. This includes airport transfers, inland transfers, accommodation, local sightseeing, and anything you need while in India.
Having served hundreds of patients from 50+ countries, we understand your requirements well. For more first-hand accounts you can read more of our plastic surgery in India reviews. You can contact us at +91 9320036777 or write to us at info@indicure.com.