The Reality and the Myths about Tummy Tuck in India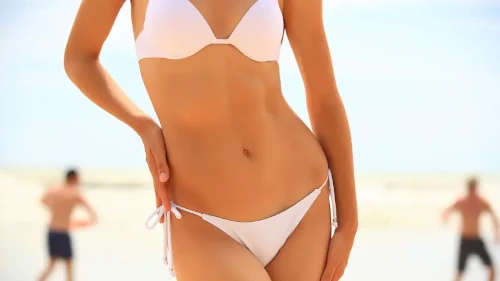 Tummy tuck is a plastic surgery procedure that aims to improve the abdominal contour by removing excess skin and fat and tightening the abdominal muscles. There are many misconceptions and false beliefs about tummy tuck that prevent people from making informed decisions about their body. Many people have unrealistic expectations or wrong assumptions about what tummy tuck can or cannot do for them. Plastic surgeons in India often encounter questions and doubts from their clients about the myths related to tummy tuck plastic surgery. Here are some of the most common ones and the facts behind them:

Myth 1: Tummy tuck is a great way to lose weight!

Have you ever heard someone recommend tummy tuck as a solution for weight loss? The reality is, tummy tuck is not a weight loss procedure, but a body contouring one. It improves the shape and appearance of your stomach or abdomen by getting rid of excess skin and fat and tightening the loose or weak abdominal muscles. You only lose about 10 lbs. of skin or fat tissue with tummy tuck, which is not significant in terms of weight loss. The fact is that tummy tuck is best suited for people who are already at or around their ideal body weight or not more than 5-7 kg overweight and have most of their fat deposits in the abdominal area. Tummy tuck can give you long lasting results, but if you gain significant weight after the surgery, you can ruin the desired outcome. Therefore, it is important to maintain a healthy lifestyle and diet after the surgery to maintain the results.

Myth 2: You don't need tummy tuck if you exercise enough!

Why do you want tummy tuck in the first place? Can't you just work out regularly and get rid of the bulging or sagging tummy? Unfortunately, you can't. The reason is that sometimes the abdominal muscles that give your stomach its shape and support can separate or stretch due to various factors such as age, weight fluctuations, pregnancy or genetics. This condition is called diastasis recti and it creates a gap between the left and right sides of the abdominal wall, resulting in a protruding or pouch-like appearance of the lower abdomen. Doctors strongly advise exercising to strengthen the abdominal muscles and improve your posture and core stability. But since the affected muscles can't go back to their original size or position by themselves, the lower abdomen remains swollen or droopy even after spending hours at the gym.

Tummy tuck is ideal for healthy individuals at or around their ideal body weight who can't seem to lose their belly fat and have sagging or hanging bellies due to diastasis recti or excess skin. Tummy tuck effectively tightens and repairs the underlying muscles and thus solves the problem at its source. Also, most women end up with loose and hanging abdominal muscles and skin after pregnancy and delivery which can only be fixed by a tuck. Even if you lose all the fat by dieting and burning it in gym, the loose muscles and overhang won't go away without surgery. The next time when someone tries to discourage you from doing tummy tuck by saying they are for the lazy who can't exercise enough, you have a lot of scientific explanation to give them!

Myth 3: C section + tummy tuck is a quick way to get back your pre pregnancy body like Hollywood celebrities

Magazines are full of celebrities who look like they never had a baby within days or weeks after their pregnancies. Could their secret be tummy tuck? Well, we can't tell you what the 'celebrity secrets' are, but we can tell you that doing tummy tuck right after pregnancy is not a good idea. Tummy tuck or abdominoplasty is a major surgical operation that requires proper preparation and recovery time. It is not advisable to do it immediately following pregnancy or along with c-section delivery. The weight gain that usually happens during pregnancy is not lost so quickly after delivery. Pregnancy and breast feeding is a time when hormone levels change drastically and a lot of weight retained in a woman's body during this period is the so-called water weight, which will eventually go away naturally. It is recommended to wait for at least six months after delivery and make sure that you have reached your ideal weight before considering tummy tuck. This will ensure better results and lower risks of complications.

Myth 4: Tummy tuck is only for women

This is far from true. Men also desire flat and firm stomachs as much as women do. In fact, men are increasingly opting for tummy tucks to improve their body image and confidence. Women, no doubt lead the numbers, but tummy tucks are becoming more popular with men too. Men usually seek tummy tucks after massive weight loss or aging that leaves them with loose skin and fat in their abdominal area. Tummy tucks can help them achieve a more masculine and athletic look by removing the excess tissue and tightening the muscles.

Tummy tuck or abdominoplasty is a major operation that involves significant risks and costs. It is important that you have a clear idea of everything involved in the procedure before you say 'yes'. You should consult an experienced and qualified plastic surgeon who can assess your condition and expectations and advise you on whether you are a good candidate for tummy tuck or not.

We make sure that our clients who trust us and fly thousands of miles into a totally different country to have major surgical procedures like tummy tucks are well informed and have no doubts about the surgery.

Myth 5: Tummy tuck in India is low cost so it is low quality also

Plastic surgery in India is of good quality despite generally low cost because of several factors, such as: 1. The availability of highly skilled and experienced plastic surgeons who offer services at an affordable rate, 2. The lower cost of living and medical expenses in India compared to most developed countries, 3. The advanced technology and equipment used for plastic surgery in India, 4. The high demand and competition among plastic surgery clinics and hospitals in India, which drives down the prices and improves the quality.

The cost of tummy tuck in India however depends on choice of the surgeon, the city where procedure if offered, the type of procedure, complications, additional services, consultations, and testing etc.

About IndiCure Health Tours

If you are looking for tummy tuck in India plastic surgery at reasonable prices, IndiCure Health Tours is your best choice in India. We have association with some of the best plastic surgeons in India and have been serving happy customers from over 50 nations for more than a decade. We understand your requirements well. To find out more about how to get a tummy tuck in India, email us at info@indicure.com or send us a WhatsApp message at +91 93200 36777.